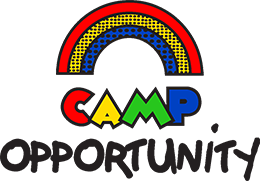 Event Schedule
Join us at an upcoming event!
Summer 2022 Sessions - We are beginning to plan!
We are thrilled to announce that we have begun to plan for Camp Opportunity for this summer! At this time, we are anticipating being able to hold both sessions of our program and remain hopeful that no matter what, we will be able to have camp safely again this summer. Dates are as follows: Session 1 (ages 8-10) - July 3rd through July 8th - staff to arrive a day earlier on July 2nd. Session 2 (ages 11-13) - July 31st through August 5th - staff to arrive a day earlier on July 30th. As a guest of the campgrounds, we will be abiding by their COVID related requirements and information related to that is part of the volunteer and camper applications. Camper applications are being distributed directly to eligible returning campers and their siblings, as well as through our camper liaisons at our referral agencies. To apply to be a volunteer, click the link below. If you have any questions, please go to our contact page and send us a message.