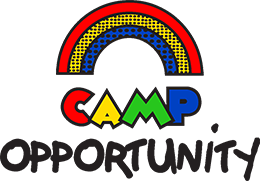 Mission & Goals
Changing the lives of kids in need.
The primary goal of Camp Opportunity is to improve the health, safety and well-being of our campers and staff, by providing them with opportunities to build healthy relationships and increase their self-esteem in a safe, stress-free environment.
Our Objectives
We seek to achieve our goal through the following objectives:
Match each camper one-on-one with a counselor for the week, providing them with continuity and mentorship that can continue throughout the year and each summer.
Facilitate a wide-range of activities, including the Discovery curriculum, which have a focus on coping skills and promoting the positive attitude "I can."
Create opportunities whereby each camper can experience success.
Help our campers develop skills to face their own circumstances and to make safe life choices outside of camp.
Provide campers with the experience of developing positive relationships with adults that can be transferred to their community, school and home.
Transform a child's life
for as little as $25